he Savannah Bananas — an exhibition baseball team based in Savannah, Georgia — brings all the action of America's greatest pastime combined with a circus-like atmosphere. Photographing the team is unlike anything I have ever done before. Simply put, they play by their own set of rules. Because of this, I've had to adapt my baseball photography style to properly cover a Savannah Bananas baseball game.
Who are the Savannah Bananas?
The Savannah Bananas play what they have cheekily coined "Banana Ball." What is Banana Ball, you may ask? It's baseball, but with a few key differences intended to make the game a more entertaining and inclusive experience for spectators.
For example, the team has their own dance coach who teaches choreographed routines that the team performs every inning. Every game, a baby is presented to the fans—Lion King style—while wearing a banana costume. The team has its own marching band, and a senior citizen dance team named the Banana Nanas. There is also a dancing umpire.
Needless to say, there's a lot going on at a Savannah Bananas baseball game.
The team has received national attention on social media platforms such as TikTok, where they currently have 6.8 million followers. While fascinating for spectators, this can make for an overwhelming job for a photographer tasked with covering all the action on and off the field.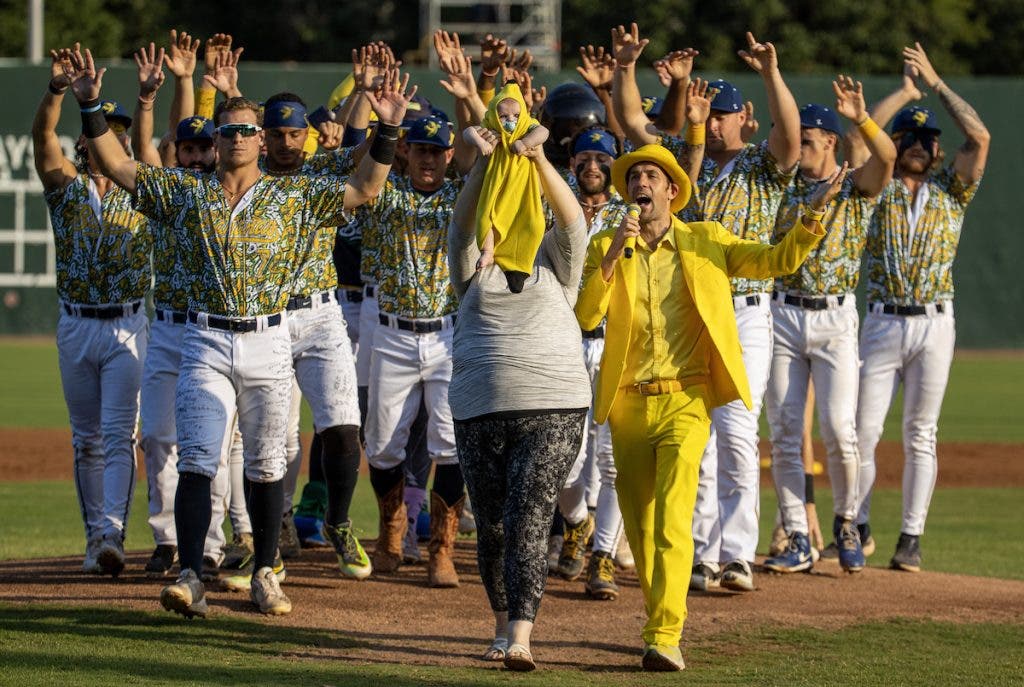 Adapting to the Savannah Bananas
I've been a Getty Images photographer (formerly Allsport Photo Agency) for almost 30 years. During that time, I've covered many, many Major League baseball games. But when photographing the Savannah Bananas, I'm mixing the action of the baseball game with a nonstop choreographed musical extravaganza. 
The Bananas can leave the field at any given moment, jumping in the stands to celebrate with fans. There are players circulating in the crowd throughout the game signing autographs, offering T-shirt giveaways and pie-eating contests. There is no down time. It is relentless and every minute is geared towards entertaining the fans.
To properly cover this story, I had to deter from my traditional way of shooting baseball photography.
To properly cover this story, I had to deter from my traditional way of shooting baseball photography.  Due to the unusual rules that the Savannah Bananas play, I really needed to be on my toes to anticipate action on the field. Since there is so much to see, I mainly focused on the action happening in front of me.
I used a wider lens to capture as much as possible. Sometimes there were many things going on at once and I had to choose where I wanted to go. The fans are the team's first priority and I wanted to show that in my photos. Because of this, I found myself with the fans most of the time, capturing the players as they interacted with spectators. You could even say the action on the field became secondary.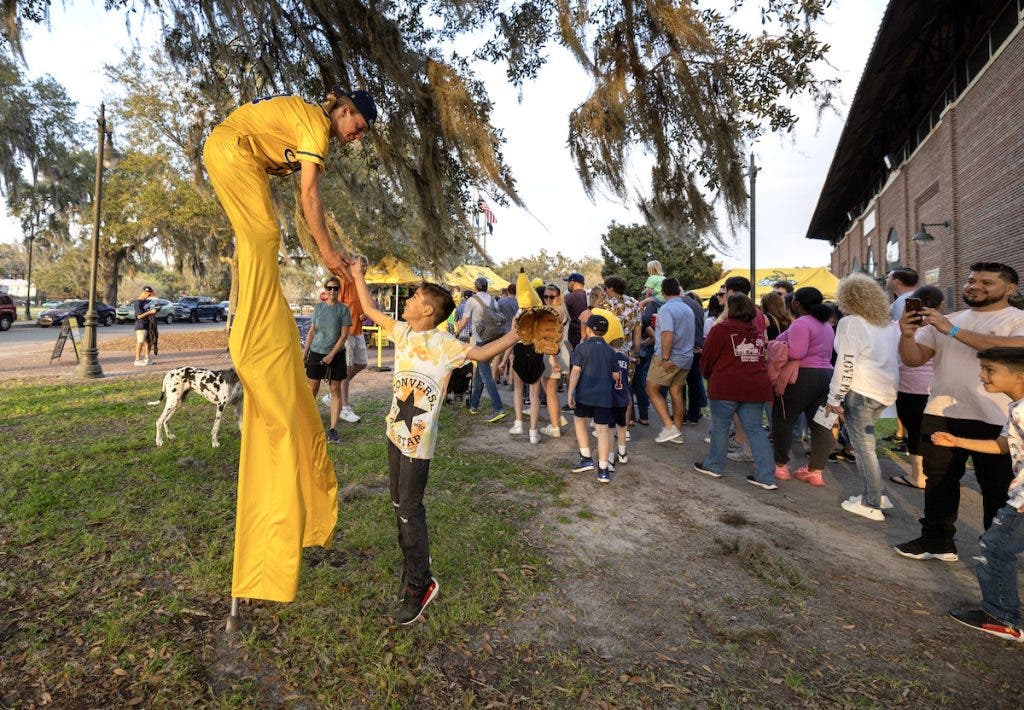 Where I Photographed the Savannah Bananas
Prior to game day, I would meet with the Public Relations staff to set expectations and determine what would be possible for me to capture. I have photographed the Savannah Bananas multiple times now: in cooperation with the staff, I was given more and more access to the team with each game I covered. In fact, I was eventually granted access to capture scenarios that would never be allowed during a Major League game.
I was able to sit in the locker room and photograph players mingle with each other behind the scenes. I was also invited to their practices and see the rehearsal of their dance routines. This was incredibly helpful at game time to know when and where they would be performing. I was also able to go behind home plate, and in the dugout, to photograph the action during the game. In a Major League game, all of this would have been impossible.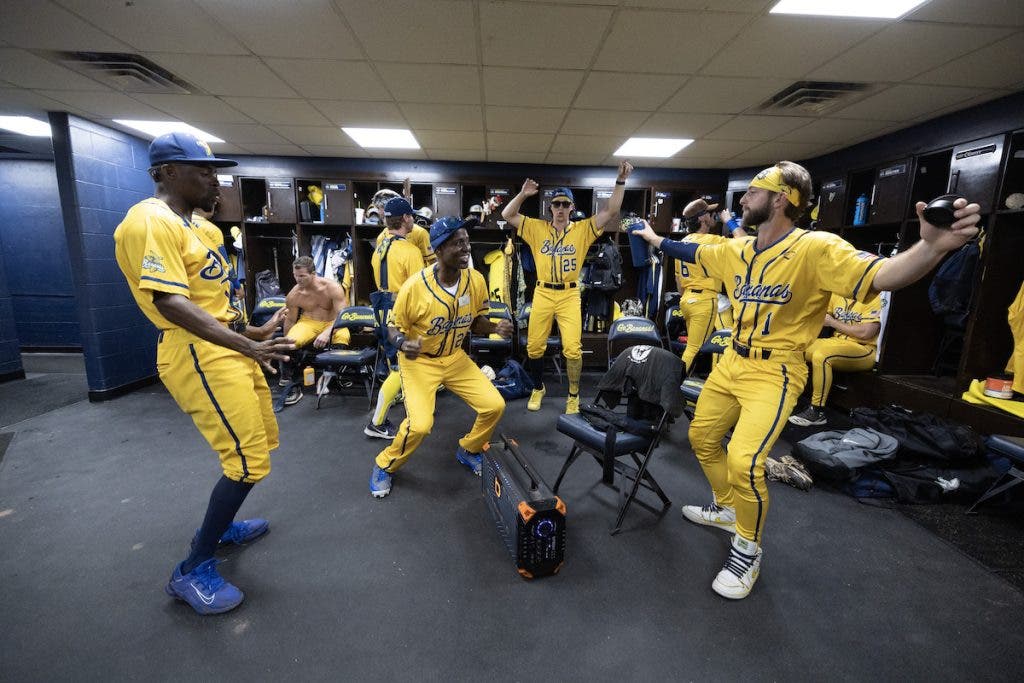 I was also outside the stadium prior to the game to photograph the fans, the Savannah Bananas parade of players, and the band as they interacted before, during, and after the game. After extensive planning with the Public Relations staff, I was even able to photograph and interview the owner of the team, Jesse Cole, and some of the baseball players.
Gear for Baseball Photography
For baseball photography, I often use a Canon RF 600mm f/4 L IS USM Lens or Canon EF 200-400 f/4 Lens when I'm shooting long — sometimes I utilize a Canon Extender RF 1.4x as well.
I also carry with me a Canon RF 70-200mm f/2.8 L IS USM Lens, Canon RF 24-105mm f/4 L IS USM Lens, and Canon RF 15-35mm f/2.8 lens. My camera bodies are the Canon EOS R3 Mirrorless Camera and Canon EOS R5 Mirrorless Digital Camera.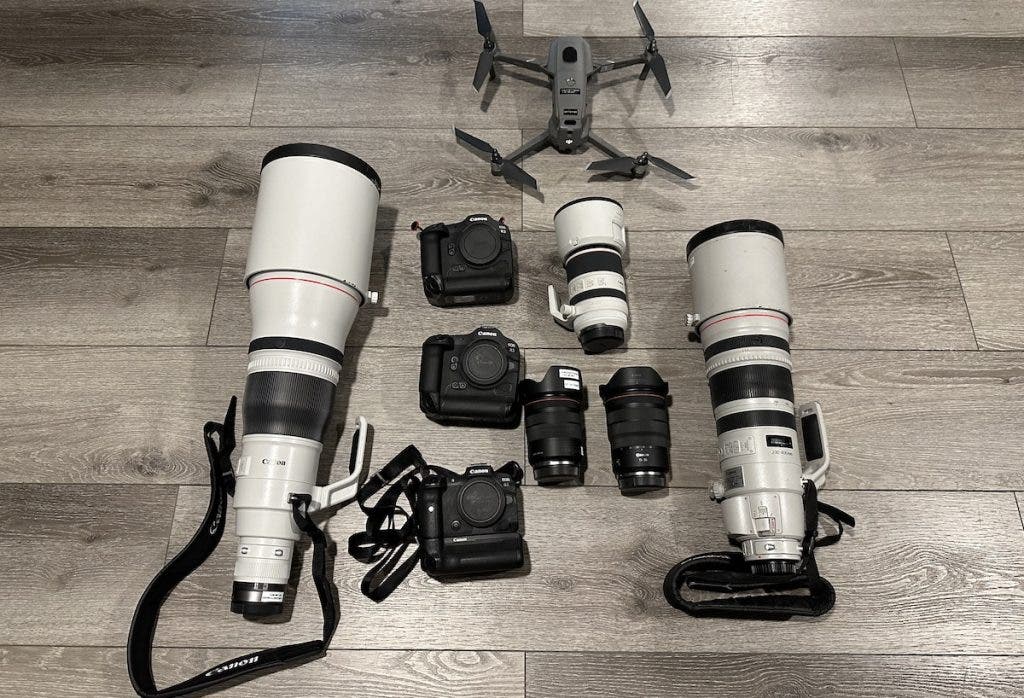 Although, I got away from using long lenses during the Savannah Bananas game in order to stay mobile. I decided to use shorter, wider lenses because photographing the typical baseball action shots just did not tell the story of the Savannah Bananas.
If I just used a long lens, I wouldn't have been able to capture the true essence of a Savannah Bananas baseball game…
There are many layers to this operation. If I just used a long lens, I wouldn't have been able to capture the true essence of a Savannah Bananas baseball game, which live in the moments between the players and fans. Using wider lenses can bring the viewer closer and provide a more intimate look at what is going on.
I also used the DJI Mavic 2 Pro Drone to get aerial shots during the game. I was able to fly my drone during one agreed-upon inning each game. The team's photographers were also using a drone, so I had to work around them. They were very helpful in granting the access. My intention was to capture general views of the action while it was going on. 
At one point, I was lucky enough to have a breathtaking sunset behind the stadium. I also flew the drone around the infield to get different shots of the player introductions and game action. Again, this would have been impossible to do at a Major League game. 
Best Camera Settings for Baseball Photography
The game started at the tail end of the daylight, but it was still somewhat bright out. My aperture, ISO, and shutter speed were totally different than when the game drifted into the night. When it was light out, I tried to keep the lowest ISO as possible. I froze the action add 1 /1250 sec and my aperture was as wide as possible — usually at f/2.8. 
When moving into the evening, the lighting inside the stadium was not very good. The ISO needed to be low as possible to avoid making the photos look grainy. I went as high as ISO 6,400 at the darkest part of the shoot.
I firmly believe that every photographer should do an assignment like this. It forces you to think differently and use all your storytelling tricks. The most I can do is give an accurate representation of what I saw, so the viewer can experience the magic of the Savannah Bananas along with me.
Featured Image: SAVANNAH, GEORGIA: Jackson Olson #8 of the Savannah Bananas fields ground balls in a Banana Skin suit prior to their home opener against the Party Animals at Grayson Stadium on February 25, 2023 in Savannah, Georgia. (Photo by Al Bello/Getty Images)