hen I schedule a family portrait session, I always ask the parents "What are you hoping for?" Oftentimes, I get requests for sibling photos. Here are some ideas for sibling photoshoots, and tips that will make sure you get great sibling photos during a family session. With a little thought and vision, you can create beautiful images!
Poses for Siblings
Posing siblings together can feel like a challenge, so I think of my job as setting the scene. Find the place, the light you want, decide on your frame, and then get everyone there.
Encourage Closeness
I start by looking for different levels and heights, for closeness and interesting groupings. I'll ask "Who wants a hug?" or "Who wants to climb on the table?" Kids are usually happy to do something they don't normally get to do! Movement will also energize your images. Start with small movements. Tell them to step toward each other, put heads together, take a breath.
Try to have all the siblings in the images you deliver. I usually prefer images where every kid is present in some way — even just a hand or foot! After you get photos of the whole family, you can go in for closeups of all the kids together. As you navigate the scene, get high and low, step back, and get close.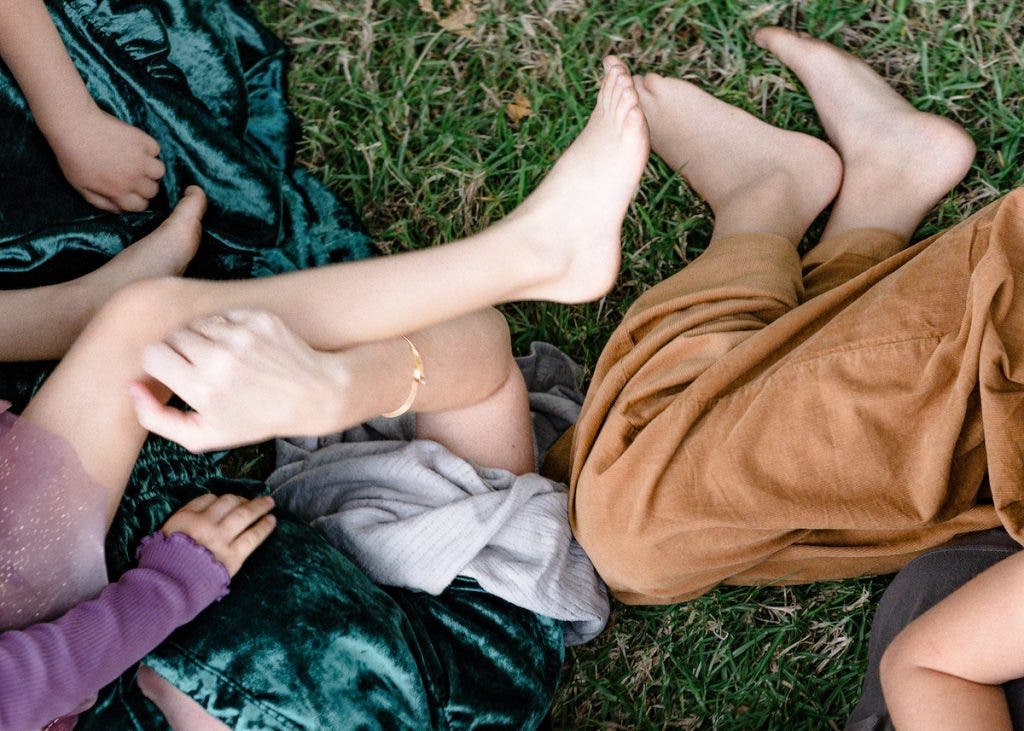 Involve the Parents
Depending on the kids' age, I always get parents to help. I won't move kids or furniture if I can help it! Keep parents close and reassure them. I tell parents that kids don't need to smile or have fun. Anything children do is great. If a baby can be placed in a sibling's arms, suggest that the parents do it. If a toddler is curious about a newborn, ask the parent to help her get into place. When something can be moved or someone needs comforting, have the parent step in. I'm all for having parents as background for sibling photos in these moments.
Experiment with Composition
Remember that sibling portraits can absolutely be creative. Try closeups of hands or feet. Photograph through a window. Capture some blurry action shots. Get the typical portrait first, and then feel free to experiment.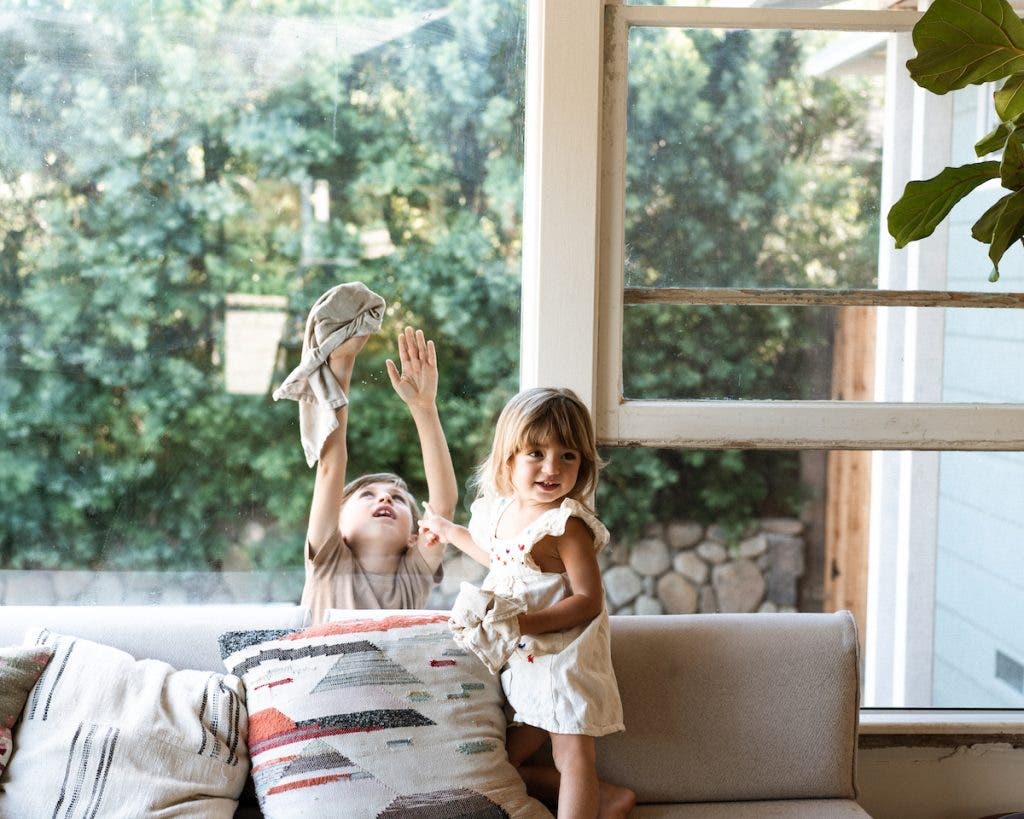 You won't have their attention for long, so laughter and fun makes all the difference with sibling photos. Don't wait for the kids, bring the fun to them. Play Simon Says. Give each child a special job. Have them play telephone and photograph the results. Balance moving on too quickly with knowing when to change it up if something really isn't going well.
Lead by Example
Moderate your actions so theirs will follow, encouraging them to be quiet, get close and whisper. If it's time to be loud and playful, make your actions big and bold. Kids are incredible observers and will watch for cues from you. Don't forget to observe them as well. Oftentimes, transitions or in-between moments will yield beautiful results.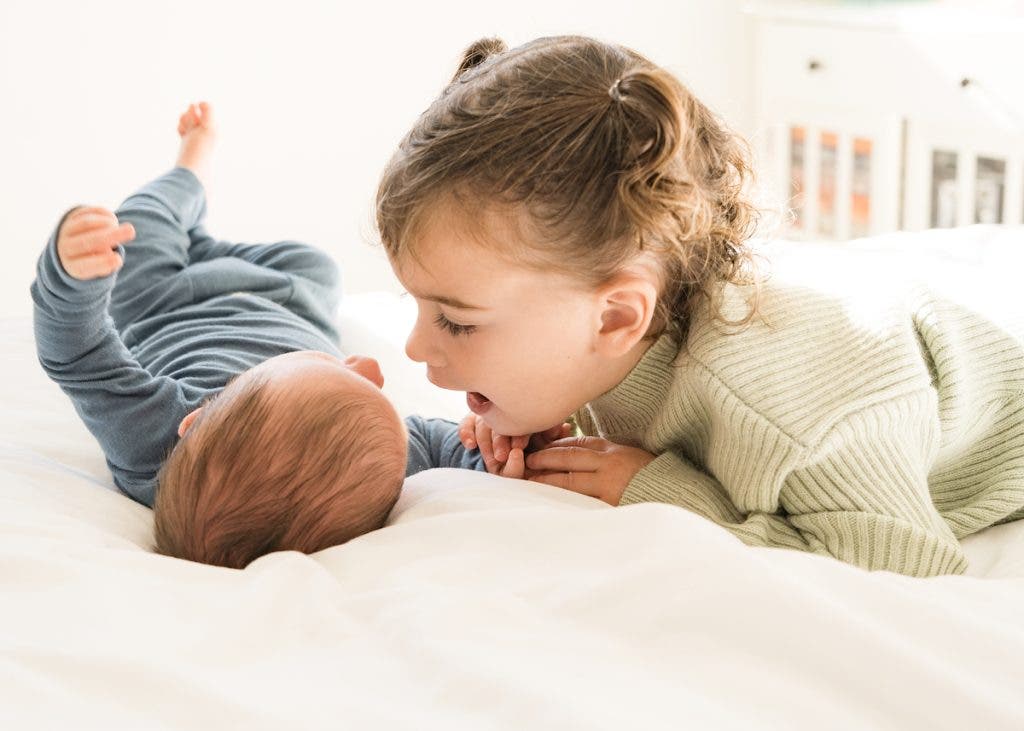 How to Work with Different Ages
Babies and Toddler (0-4)
Babies and toddlers are naturally curious! They will be curious about you and your camera. Engage their curiosity. You can sit the babies and toddlers in a safe, comfortable spot. A big bed or an outdoor blanket are great options.
There's really not much to directing toddlers. You should set some limits and then encourage them. Try directing everyone else and see what the toddler does. The baby will be curious about the toddler as well. The baby is usually harder on the toddler rather than the other way around!
Kids (5-12)
Photographing kids ages 5-12 is all about encouraging action. Often photographers say " can you…?" But giving direction to kids should be clear and precise: more like "Let's try this."
I'll give someone an important job and make them the center of attention. Assign a leader for a round of Follow the Leader. Have them run in and give a (gentle) hug. Go for a walk, then have all the kids run toward you. Direct them to run slowly, tell them where to look, and offer cues such as "When I say go…" or "When I count to three…."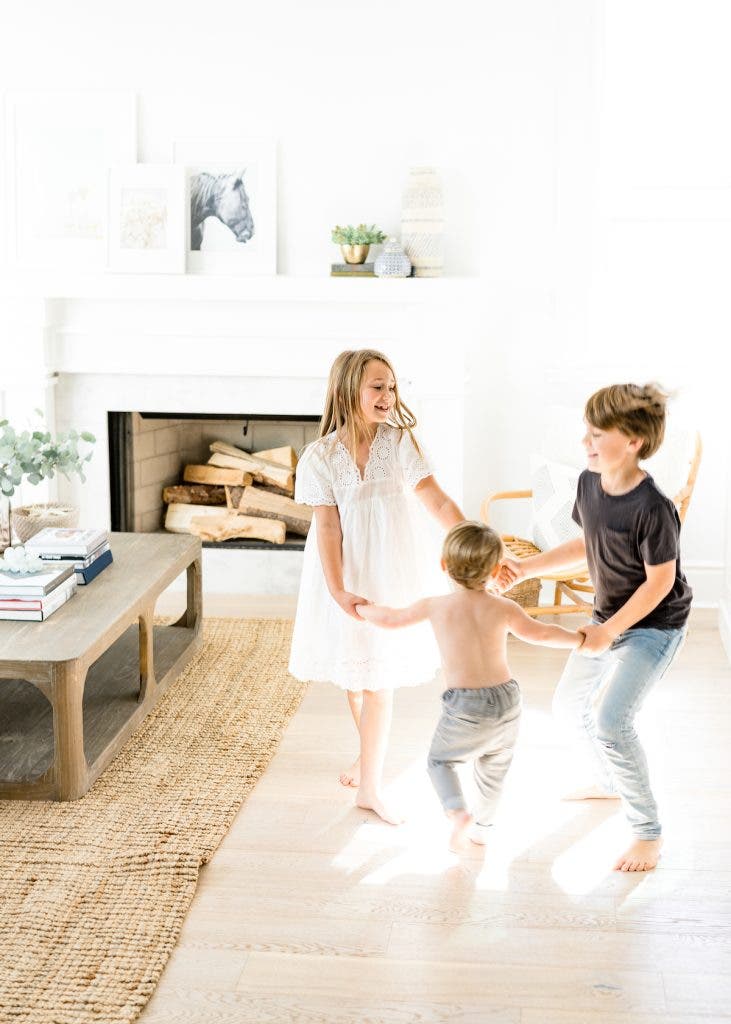 I bring flowers for kids to hold, we play Ring Around the Rosie, or I'll have them climb on top of their favorite furniture. Don't hesitate to have them lie on the floor with heads together and photograph them from above. Just make sure their heads are the closest thing to your lens, and that you are up high enough to have them all in the frame. You can reverse this by lying down yourself, and having them all above you looking down!
Take time to observe kids just playing together as it happens. You can always say " Hey, look at me!" for a quick glance.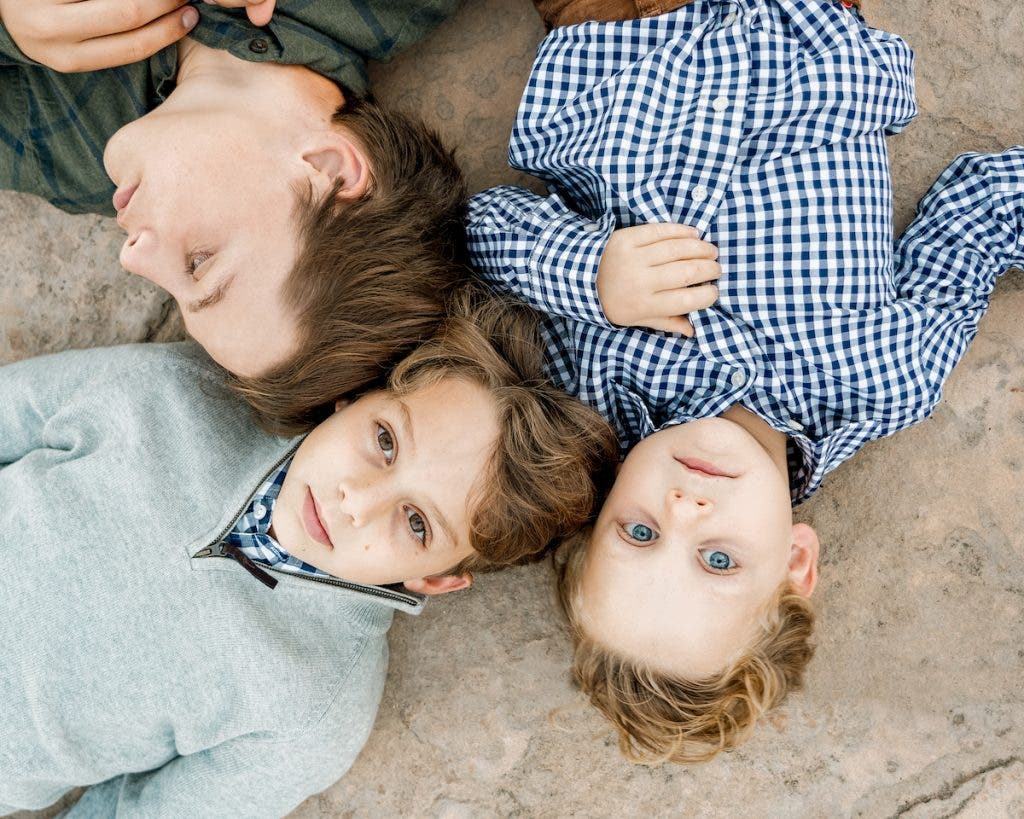 Teenagers (13-18)
Teenagers are particularly great at collaborating. Let them into your creative process by telling them what your ideas and asking for theirs.
For example, you can pretend you are making an "album cover" by usually unconventional poses such as sitting on different rocks, hiding behind a flower, or standing on a bench. The idea is they can be as awkward as they want to be, but it will be interesting! If you engage teens this way, they will stick around for photos.
How to Keep Different Age Groups Engaged
Kids of different ages can be a dream come true! Teens and babies are especially fun together. Engage the older kids to collaborate with you and the younger ones will follow. Keep parents close to help and entertain. Don't forget to bring out the teen's personality (i.e. how they help at home, or what music and fashion they love.) Remember you don't need to do all the work! Older kids will save you by engaging the younger ones.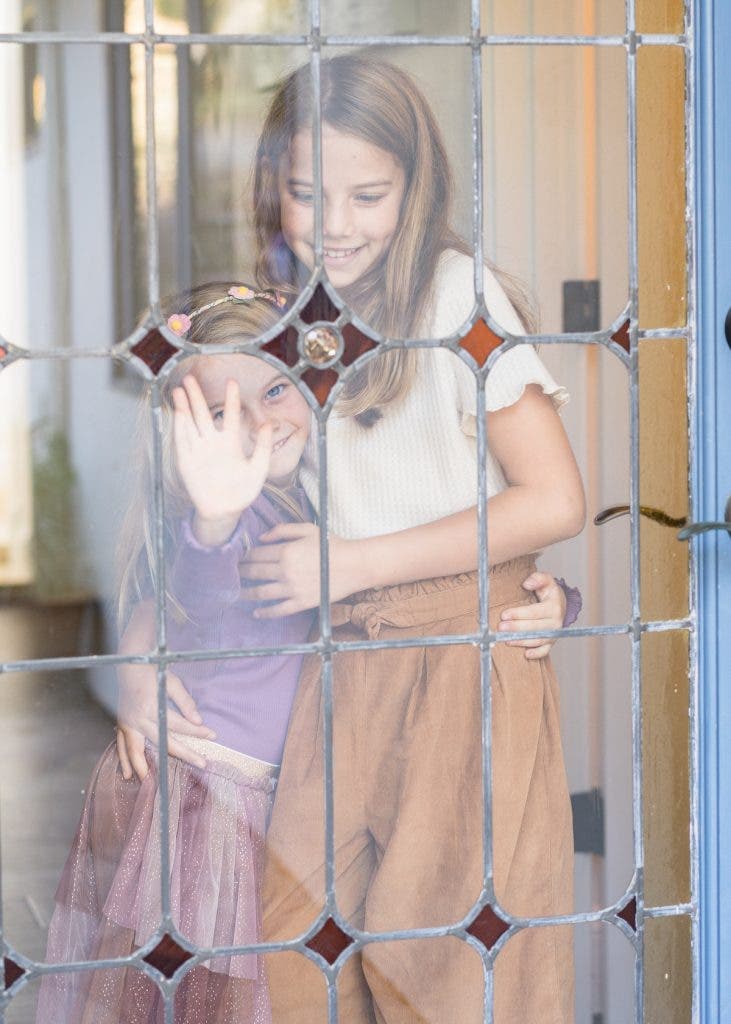 Young kids and babies can be great together, but it can all change very quickly. Have parents help the kids to sit with a baby on the bed or a comfortable rug. Toddlers will talk to the baby, smell their head, but you can encourage them to kiss their toes. Pay attention to what the toddler needs. If they need a break or a snack, or they want to show you their special toy, encourage that. You always have time for a quick break and reset, even if they aren't having it. Usually young children will come back around if given some time.
Where to Photograph Siblings
The Subjects' Home
Home is a great place to photograph siblings. Their home offers a variety of settings indoor or outdoor, outfit changes, snacks, and things they love to do. Kids will play together in spaces that are most comfortable to them. The first thing I do in any session at home is have kids show me around. They will be naturally curious about you, and you can scout places with the light and scene you want to create.
The yard is great — just be mindful of the background. Bring a blanket outside as it provides a natural landing place for everyone to stay close. Bedrooms, kitchens, stairways, on the floor near a window, through a window are all wonderful places to photograph. Kids will usually use space creatively and try to use furniture in a creative way. You don't want anyone disappearing into a couch!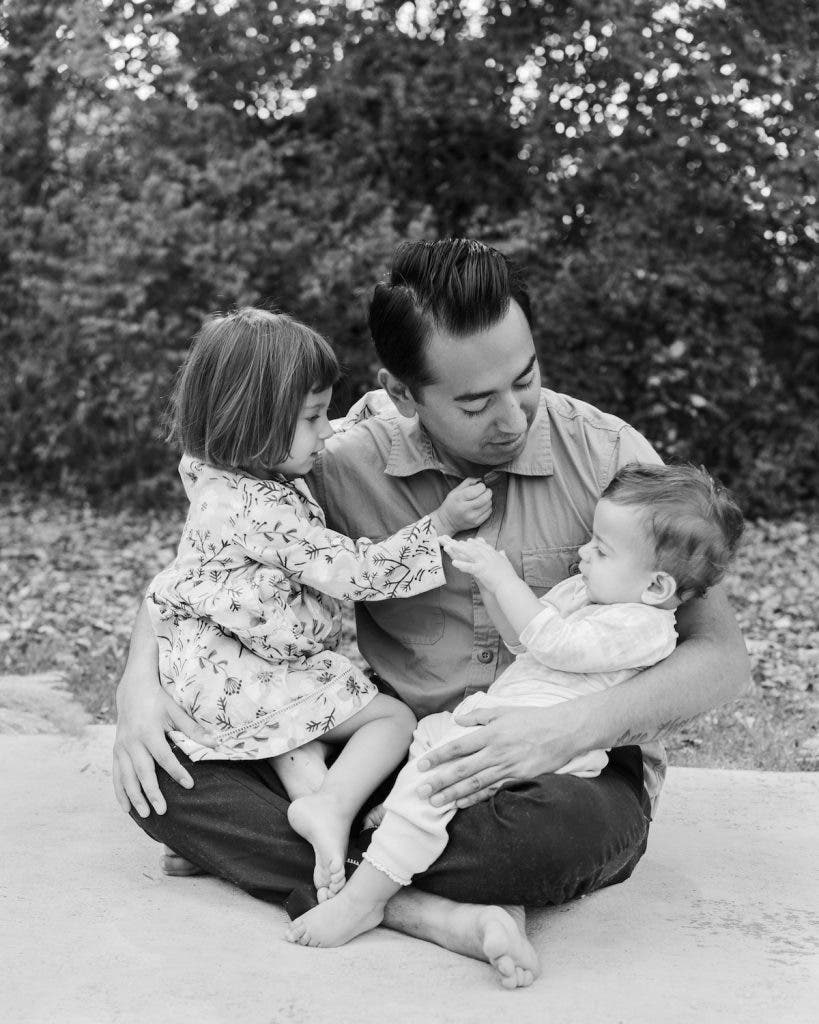 Third-Party Location
If you are meeting families somewhere, make sure to scout the location for ease of access and lighting. An easy hike with a destination, like a big tree or a lazy stream, is a great place to photograph. A park can be great, but avoid being near a playground as it usually draws younger kids away from you. Unless you intend to photograph them on the playground, I'd choose somewhere else.
Gear for Sibling Photography
The camera is yours to choose. But, overall, don't be precious about gear. Use cameras that allow for play and that you don't mind kids being curious about. I love small cameras!
Mirrorless cameras are small and light, and easy to carry. You can use a 24-70mm lens for families, often somewhere around 40mm will be ideal. My 50mm lens opens up to f/1.8: it's not a fancy lens, but it's small and I love creating family portraits with it. 
I usually keep my aperture wide but often stop down when siblings are together — f/4.0 is great. A shutter speed of just 1/60 will stop motion. A very slight blur or movement can be flattering to skin. I start at 1/100 to eliminate any camera shake and adjust from there. I may use a slower shutter speed for blur throughout, which heightens emotion and softens the feeling of an image.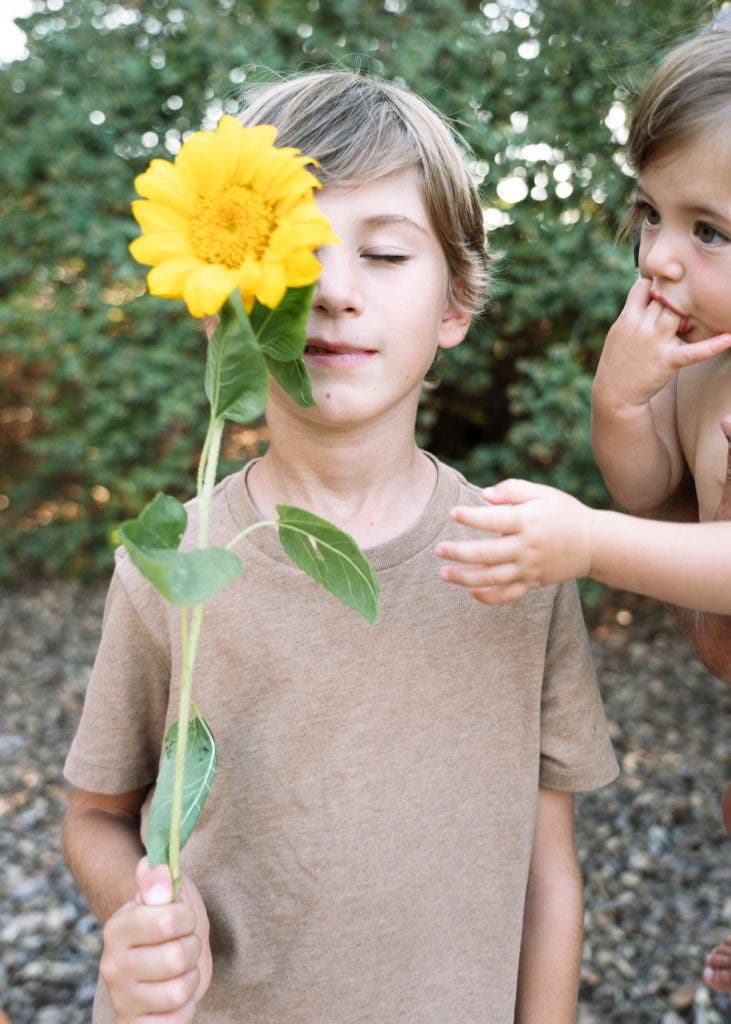 Try bringing an extra kid-friendly camera, like an inexpensive point-and-shoot or an Instax camera for a few photos. Instax cameras are easy to use, and allows kids the fun of seeing their image right away. It's your choice to keep the images and scan them, or it's a gesture of thanks to give kids something to keep before you leave.
Sibling photos take some vision and planning, and these are just a few helpful tips and tricks. Overall, remember that you don't have to do all the work yourself! When you engage parents and kids alike, you'll get beautiful results.